Description
TITAN STACK: 40mg {LGD-4033 (10mg) RAD-140 (20mg) YK-11 (10mg)}  
COMPREHENSIVE MUSCLE GROWTH 
 INCREASED AGGRESSION & LIFTING INTENSITY 
PACK ON MASS, STAY TIGHT  
 LGD-4033 is often referred to as the best mass building SARM, as it seems to exhibit greater muscle building potential than all other first-generation SARMs. Typically, it is incorporated into bulking phases where LIGANDROL is used to enhance strength and hypertrophy while concurrently being in a caloric surplus. 
RAD140 and Testosterone both target the androgen receptor.  The difference is that Testosterone will also affect more than just organs, bone, and the central nervous system.  Testosterone will also cause testicle shrinkage because it affects the reproductive system.  The idea behind Testolone is that it bypasses these problems, because it is specific in its androgen receptor binding, going after just muscle and bone cells.  Instead of messing with organs like the liver or affecting sexual tissues. So, in simple English, Testolone (RAD140) does what Testosterone does, without the nasty side effects. 
YK11 acts as a potent Myostatin inhibitor in the body, allowing for muscular development far exceeding one's genetic potential. How it works is it attaches itself to the androgen receptor, and induces the muscle cells to produce more follistatin, consequently inhibiting myostatin in the body, which then results in more overall muscle growth. As Myostatin essentially keeps your body from growing too much muscle.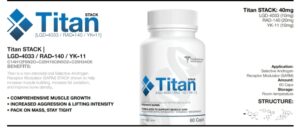 CYCLE INSTRUCTIONS 
8-12 Week cycle 
Liver support: Built Protect (best) or NAC (good) 
Post cycle: Built Recovery + Innovapharm Test Rejuvenation(best) Built Recovery (good)  
Weeks 1-12 
TITAN- 1 pill am, 1 pill pm 
Liver support- 1 pill am, 1 pill pm 
Week 12-16 
Stop TITAN 
Built Recovery -1 pill am, 1 pill pm   
Innovapharm Test Rejuvenation 3 caps am,3 caps pm  
Liver support- 1 pill am, 1 pill pm   
For 

8 week

 cycle just make sure to follow week 12-16 instructions when you stop the TITAN at week 8