Description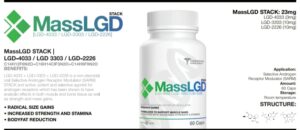 MassLGD STACK: 23mg {LGD-4033 (3mg) LGD-3303 (10mg) LGD-2226 (10mg)} 
 INCREASED STRENGTH AND STAMINA  
BODYFAT REDUCTION  
RADICAL SIZE GAINS 
LGD-4033 is often referred to as the best mass building SARM, as it seems to exhibit greater muscle building potential than all other first-generation SARMs. Typically, it is incorporated into bulking phases where LIGANDROL is used to enhance strength and hypertrophy while concurrently being in a caloric surplus. 
LGD 3303 results show significant lean muscle gains and even muscle retention during long periods of low-calorie intake. Plus, it's also potentially strengthening the density of bones, meaning the infrastructure supporting your stronger and larger muscles is developing as well, which won't put a strain on your body. 
LGD-2226 can be used for muscle wasting, osteoporosis, and sexual dysfunction. This SARM has also been proven to increase strength and boost cardiovascular endurance. At the same time that it builds muscle, LGD-2226 also helps burn fat similar to how Cardarine does. You'll lose fat without losing muscle. 
CYCLE INSTRUCTIONS 
8-12 Week cycle 
Liver support: Built Protect (best) or NAC (good) 
Post cycle: Built Recovery 
Weeks 1-12 
MASS LGD- 1 pill am, 1 pill pm 
Liver support- 1 pill am, 1 pill pm 
Week 12-16 
Stop MASS LGD 
Built Recovery -1 pill am, 1 pill pm 
Liver support- 1 pill am, 1 pill pm 
For 

8 week

 cycle just make sure to follow week 12-16 instructions when you stop the MASS LGD at week 8