Description
THIS STACK CONTAINS 1 BUILT RECOVERY AND 1 INNOVAPHARM TEST REJUVENATION
INNOVAPHARM | STAGE 1 EVOLUTION REJUVENATION

Ultra Potent Natural Test & Libido Support
Highly Dosed Rare Fadogia Agrestis
Synergistic Ayurvedic Herbal Blend
Enhanced w/E-XSTANE
Innovapharm – Stage 1 Test Booster
STAGE 1 TEST REJUVENATION contains a MASSIVE dose of AgresTEST™, an obscure form of Fadogia Agrestis,
sourced and cultivated directly from Ghana. AgresTEST™ differs from other Fadogia sources in that it contains an abundance of natural and extremely rare alkylamide glycosides, which are believed to be potent testosterone enhancing constituents.
E-XSTANE™ is a hardcore Anti-Estrogen & Anti-Cortisol ingredient. Each serving of STAGE 1 TEST REJUVENATION contains a full dose of E-XSTANE™ to ensure for optimal levels of Testosterone while promoting a truly lean and tight physique.
Deficiency in certain vitamins and minerals can limit the body's ability to produce testosterone. For this reason, STAGE 1 TEST REJUVENATION supplies ample doses of Vitamin D3, Vitamin B6 and Zinc in order to replenish what the body depletes during strenuous exercise.
It's a well known fact… HIGHER TEST = GREATER GAINS! Combined with AgresTEST™, these 5 ingredients assist in
drastically boosting Luteinizing Hormone, Follicle Stimulating Hormone and of course Testosterone.
Due to its potency, results from STAGE 1 TEST REJUVENATION can be felt in just 1-2 days. Results become more profound over time with consistent daily use.
Innovpharm Stage 1 Evolution Rejuvenation ( 180ct bottle) -Enhanced w/ E-XSTANE promoting a lean, hard, dry look, while increasing free testosterone. -Optimal Male Restoration, Providing doses of Vitamin D, B6, and zinc, shown to help increase natural testosterone. -Ultra Pure Herb Complex -Loaded w/ Fadogia Agrestis which contains an abundance of natural and extremely rare alkylamide glycosides, which are believed to be potent testosterone enhancing constituents.
Innovapharm Stage 1 Rejuvenation
This unique blend of ingredients promotes the activation of specific hormonal pathways in the body geared toward optimizing vitality, boosting strength and enhancing muscle growth, all while reducing unwanted estrogen; leaving you lean and vascular.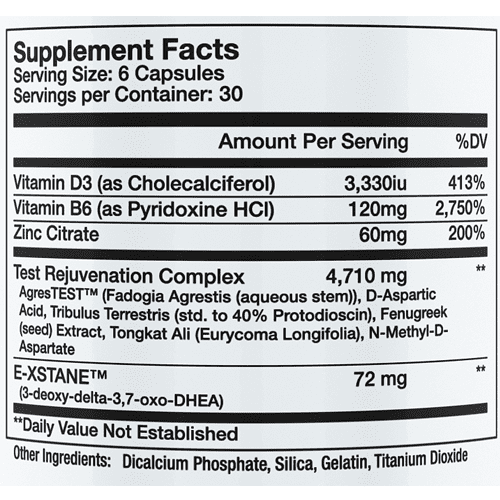 BUILT RECOVERY PCT
(Androst-3,5-dien-7,17- dione) 40mg 
(D-Aspartic Acid) 750mg 
WHAT IS IT? 
Androsta-3,5-diene-7,17-dione (Androsta) is a metabolite of 7-Keto-DHEA, which is a very potent suicide aromatase inhibitor. It is a natural occurring compound, produced by metabolism of the prohormone DHEA, and it's used in a wide array of supplemental stacks. 
HOW DOES IT WORK? 
There are a couple of ways that Androsta works. 
It is a suicide aromatase inhibitor which binds very strongly with the aromatase enzyme. It's just as strong as aromasin, which is a very expensive drug sold by prescription only.

 
Androsta will also help reduce cortisol thanks to the ketone in the seventh position; hence, the reason it is also called 7-Keto. Cortisol is a nasty hormone that the body releases when it is stressed. This stress can be from work related stress, or even the stress we put our bodies through when we workout.

 
WHY IS IT NECESSARY? 
When a person cycles Pro-Hormones that aromatize into estrogen (many of them), they run the risk of having estrogen related side effects. Androsta not only binds to the aromatase enzyme, but it's also is a suicide AI (Aromatase Inhibitor). As a result, it prevents any estrogen rebound during post cycle therapy (PCT). 
SIDE EFFECTS? 
There has been many studies done on androsta and no adverse effects were found. Clinical Investigative Medicine did a study and found that in dosages up to 200mg per day for 4 weeks, it was completely safe. Since such a high dosage is not necessary, we can conclude, if dosed correctly, and cycled on and off as all supplements should be, then the risks are nil.