Description
ON GOLD STANDARD WHEY

THE TRUE STRENGTH OF WHEY
Whey Protein Isolates (WPI) are the purest form of whey protein that currently exists. WPIs are costly to use, but rate among the best proteins that money can buy. That's why they're the first ingredient you read on the Gold Standard 100% Whey™ label.
By using WPI as the primary ingredient along with premium ultra-filtered whey protein concentrate (WPC), we're able to pack 24 grams of protein into every serving to support your muscle building needs after training. ON's attention to detail also extends to mixability. This superior quality powder has been instantized to mix easily using a shaker cup or just a glass and spoon.
There's no doubt that this is the standard by which all other whey proteins are measured.
Whey Protein Isolate (WPI) Main Ingredient
Whey Protein Microfractions from Whey Protein Isolates & Ultra-Filtered Whey Protein Concentrate
Over 4 Grams of Glutamine & Glutamic Acid in Each Serving
More Than 5 Grams of the Naturally Occurring Branched Chain Amino Acids (BCAAs) Leucine, Isoleucine, and Valine in Each Serving
The "Gold Standard" for Protein Quality
Mix about one scoop of the powder into 6 to 8 fluid ounces of cold water, milk or other beverage. Stir, shake or blend until dissolved. For best results, mix up your shake 30 to 60 minutes after your workout or use as an anytime snack in your balanced diet.
For healthy adults, consume enough protein to meet your daily protein requirements with a combination of high protein foods and protein supplements throughout the day as part of a balanced diet and exercise program.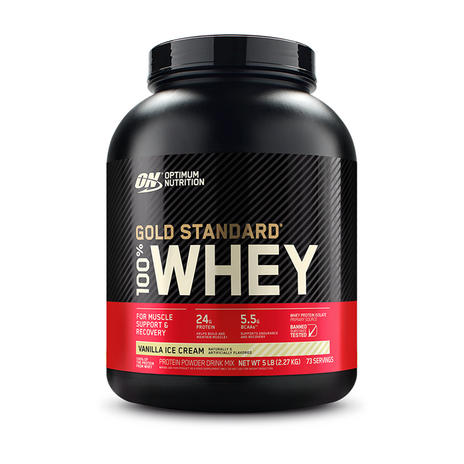 Overall Rating (4.8)
WRITE YOUR REVIEW
The flavors are amazing and the quality is unbeatable.
I bought this in the extreme milk chocolate flavour after hearing good things about it and I was not disappointed! I just tried it with some almond milk and peanut butter and it tastes like a milkshake I would buy just as a sweet treat!
Best protein I've ever used. Mixes well in a shaker bottle. Tastes fantastic especially strawberry flavour. Been using this protein for around 3-4 years and will carry on using in the future
I have been using many whey protien supplements and had digestion issues with some , taste issues etc.. But when it comes to ON the product is top notch , no issues in digestion , tastes really good . The mix of isolate and concentrate is really giving out good results . Its my 3rd tub now .
I have always liked optimum nutrition protein powder. It mixes great and has an excellent taste. Their quality is the best too.
best whey protein ever. been using it for years and years. water soluble and excellent taste and the quality is un-matched.
These protein powders also do the trick for me post-workout- they taste great and get my body what it needs!
I have put a scope in my overnight oats and it's great. I was concerned it would make it too thick but it doesn't! Tasty and added protein -can't go wrong
There's only one Gold Standad!
Best proteins on the market!
Its the 2nd time that i buy ths protein from onNutritiion and its the best