Description
KAL VITAMIN K 100MCG
Vitamin K2 is intended to provide nutritive support for normal bone formation and cardiovscular health.
KAL® K-2 (MK-7 is derived from fermented natto, which may offer optimal bioavailability and higher effecacy levels in the body.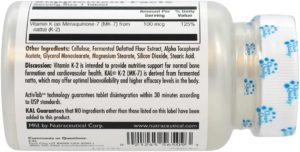 KAL
VITAMIN K 

–

(AS MENAQUINONE 7 (MK-7) FROM NATTO)(SOY)
Other Ingredients:
Cellulose, fermented defatted flour extract, alpha tocopherol acetate, glycerol monostearate, magnesium stearate, silicon dioxide, stearic acid.