Description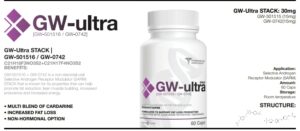 GW-ULTRA STACK 
(GW-501515 15mg and GW-0742 15mg) 
This double STACK of GW-501516 and GW-0742, two different forms of Cardarine, is known for its properties that can help promote fat reduction, build lean muscle, increase endurance, and increase energy. 
Increased fat loss

 

Non-hormonal option

 

Improved cardiovascular health

 

improved kidney and liver health

 

Suppression of Glucose metabolism (switching energy source from glucose to 

fat)

 
Increased oxidative capacity in muscles.

 
 The beauty of GW is that it is not catabolic, so if macros are taken in properly, it can still add muscle, while eliminating fat. GW is extremely effective and is used by many endurance athletes around the world. Cardarine is not a stimulant and will not make you anxious, jittery, or crash. Some studies have shown a possibility for GW to be used in the reversal of type 2 diabetes, reducing obesity and high cholesterol. 
CYCLE INSTRUCTIONS 
8-12 Week cycle 
Liver support: Built Protect (best) or NAC (good) 
Post cycle: Built Recovery 
Weeks 1-12 
GW-ULTRA- 1 pill am, 1 pill pm 
Liver support- 1 pill am, 1 pill pm 
Week 12-16 
Stop GW-ULTRA 
Built Recovery -1 pill am, 1 pill pm 
Liver support- 1 pill am, 1 pill pm 
For 

8 week

 cycle just make sure to follow week 12-16 instructions when you stop the GW-ULTRA at week 8