Description
IN STOCK!! *DUE TO LIMITED SUPPLY WE ONLY HAD LIMITED ACCESS TO INVENTORY FROM A BACK UP SUPPLIER THAT CAME AT A HIGHER COST .
WE APOLOGIZE FOR ANY INCONVENIENCE AND THANK YOU AS ALWAYS FOR YOU SUPPORT!
BUILT VIRILITAT- FREE TESTOSTERONE BOOSTER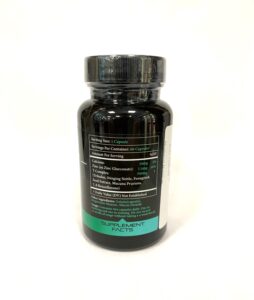 IN STOCK!- Virilitat is a natural free testosterone and ultimate libido booster made of powerful, natural, ingredients.
Calcium is the first ingredient and is important for preventing osteoporosis while you age.  
Zinc is a very important ingredient. 1 in 10 Americans are deficient in zinc. Zinc deficiency is directly linked with low testosterone, insulin sensitivity, and many more minor side effects. Zinc also has powerful immune boosting benefits. 
Tribulus comes from a root and is proven to increase libido and protect organs from wear and tear, specifically the liver and kidneys. Androgen receptors in the brain were increased in one study and Tribulus may also affect muscle androgen receptors. 
Stinging Nettle is a potent anti-inflammatory and libido booster. It may also boost testosterone. Great for prostate support. 
Fenugreek is a powerful libido enhancer which may increase testosterone. Fenugreek may also help regulate blood sugar. 
Mucuna Pruriens known as the dopa bean, mucuna pruriens is a natural herbal supplement used in Ayurvedic medicine, an ancient practice from India, that lowers stress, reduces anxiety, improves focus, boosts the libido, and elevates mood.
7,8 Benzoflavone will increase your libido. Studies show increases in testosterone and decreases in cortisol. May prevent weight gain and improve sleep quality.