Description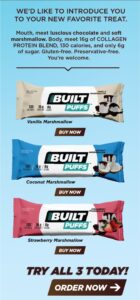 Mouth, meet luscious chocolate and soft marshmallow. Body, meet 16g of COLLAGEN PROTEIN BLEND, 130 calories, and only 6g of sugar. Gluten-free. Preservative-free. You're welcome. Try a delicious built bar puff today!
Built Maple Donut Puffs are the perfect blend of sweet maple and delicious doughnut flavors. Maple Donut BUILT Puffs are covered in caramelized white chocolate and packed with COLLAGEN Protein found in all Built Puffs! These fluffy puffs are made to have a light, airy texture that melts in your mouth. Whether you're looking for a quick breakfast treat or a sweet snack to enjoy anytime of the day, Built Maple Donut Puffs are sure to satisfy your cravings. Each bite is packed with rich, maple flavor and a satisfying texture. Try them today and experience the ultimate indulgence!
Now gluten free! Our most popular chocolatey puff. Gluten-free brownie-marshmallow covered by 100% chocolate. This Puff has a delicious brownie batter flavor, perfect fluffy texture, and it is covered in Built's signature 100% chocolate. This will have you completely forgetting that you are eating a protein bar. No need to pinch yourself, this is real life
Built Puffs are here! What are Built Puffs, you ask?  Well, they are a bit of heaven on earth. Marshmallow heaven, that is.  The first and only collagen protein bar with amazing marshmallow texture, Built does it again.  It has a delicious texture, flavor, and, of course, it is covered in Built's signature 100% chocolate. You will quickly forget this is a protein bar, thinking of it more as a tasty treat.  Feel good about that.
Finally a Churro that you can say YES to! After years of saying "NO" to high calorie churros at amusement parks, carnivals and food courts you can now bring the delicious combination of Churros and Chocolate home with you in a yummier and healthier version. Our Churro flavored Built Puffs combines the delicious flavors of cinnamon and sugar with the amazing fluffy protein goodness of our Built Puffs for an experience that is out of this world. If you've been looking for low carb churros you're in luck because these only have 6g of sugar and 140 calories while still boasting 17g of delicious protein. Now you can have healthy churros at home or even on the go.
02/09/2023
Laura T.
United States
I recommend this product
If you like cinnamon, you'll love this bar
It tastes like cinnamon toast crunch without the crunch. I was skeptical about puffs since I'm not a fan of marshmallows, but I love them, especially when I need lower-carb protein options. The chocolate coating hits a sweet spot, too.
02/08/2023
Michelle T.
United States
Churro Puff
The churro puff is excellent! I had never tried the puffs before, but after reading the reviews I am so glad that I did. This will definitely be a stable in my supply.
02/08/2023
Marion B.
United States
I recommend this product
Delicious
Highly recommend!!
02/05/2023
Guadalupe M.
United States
I recommend this product
Churro Built Puffs
This is one of my very favorites, love the spice and si ce I'm a marshmallow fan, I enjoy this combination.
Great flavour
Probably my favorite puff! <3
02/02/2023
Susan V.
Canada
I recommend this product
YUM
These taste great AND they're gluten-free, which usually don't go together.
02/02/2023
Lexi K.
United States
02/02/2023
Elizabeth G.
United States
I recommend this product
Delicious!
Love these churro puffs with their subtle cinnamon flavors. These puffs are soft in texture and easy to chew.