Description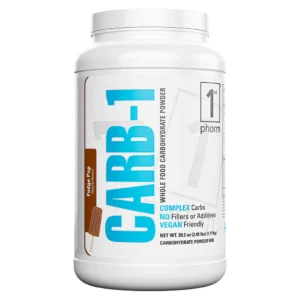 CARB 1-Having high quality, convenient choices for your nutrition needs is essential. A balanced meal contains a mix of protein, carbohydrates, and healthy fats but depending on several factors it can sometimes be difficult to find the right options for each macro nutrient.
Protein is typically the macro nutrient people struggle to find from a whole food perspective but with today's busy lifestyle and super convenience when it comes to food, even finding a quality source of carbohydrates can be difficult.
Carbohydrates are our body's fuel source, but having high quality, low glycemic choices are your best option in most cases. Carb-1 was developed to fill the gap when the convenient options are not the best options to help you reach your goals.
Carb-1 is made with whole food sources including sweet potato, oats, and yams to give you a premium, convenient, and delicious carbohydrate solution for any meal. Whether you just need extra carbs to hit your goals for the day or you're looking for a complete meal you can add Carb-1 to any Level-1 shake to create a well-balanced whole food based meal.*
**These statements have not been evaluated by The Food and Drug Administration. This product is not intended to diagnose, treat, cure, or prevent any disease.
Add one (1) rounded scoop to eight (8) ounces of ice cold water or milk.
You may vary the amount of liquid to achieve desired flavor and consistency. Shake well or blend for thirty (30) seconds or until smooth. Drink and enjoy!
Pair Carb-1 with Level-1 or Phormula-1 for the ultimate meal replacement shake!
KEEP OUT OF REACH OF CHILDREN. Do not use if you are under 18 years of age, pregnant, nursing or contemplating pregnancy. If you have any medical conditions or you are currently using prescription medications, consult your physician before using this or any dietary supplements.
QUALITY PRODUCT
I don't use this product every day but when I do it doesn't disappoint with flavor
CARB-1
Being a type 1 diabetic this is awesome source of complex carbs that doesn't spike my blood sugars. Also, great taste! 🔥💪
JUST WHAT I NEEDED
I have only been using it for a couple of weeks, but this was just the product I needed to supplement my carb intake. Great taste, just like every other 1st Phorm product.
Reviewed by Gilbert Mari V.
 Verified Buyer
I recommend this product
GREAT PRODUCT
Tastes good, and feel great when drinking this.
CARB-1
This stuff has been great at giving me the energy I have needed for practice.