Description
Fierce 5 Men's Multivitamin
New look same great formula!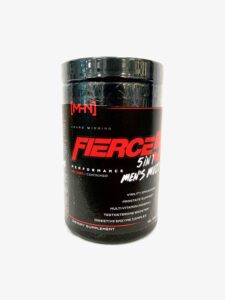 The Ultimate In Men's Performance!
Digestive Enzymes
Formulated to break down fat into three fatty acids, carbs into simple starches, and small peptides into amino acids.
Vitamins + Minerals
Contains Vitamins A, B6, B12, C, D, E, and K, Riboflavin, Thiamin, Niacin, Folic acid, Pantothenic Acid, Zinc, Manganese, Biotin, Magnesium and more!
Test Booster/ Estrogen Control
Naturally supports total and free testosterone, with the added benefit of hormone regulator DIM – a phytonutrient that offers estrogen balance.
Virility Enhancer
Formulated with Maca Root Powder, Chinese's Dodder Seed Powder and Eleuthero Root Powder to support blood flow and sexual health.
Prostate Support
This blend of premium ingredients includes saw palmetto berry powder, pygeum bark powder and more which may improve BPH symptoms and prostate function.
Note: Manufacturers continually change product specifications. While we try our best to keep product descriptions up to date, they do not necessarily reflect the latest information available from the manufacturer. We are not responsible for incorrect or outdated product descriptions and/or images.
These statements have not been evaluated by the Food and Drug Administration. This product is not intended to diagnose, treat, cure, or prevent any disease.
180 tablets
Supplement Facts
Servings Size: 6 Tablets
Servings Per Container: 30
Vitmain A (as Mixed Carotenoids and Natural Alpha, beta Carotene Beadlets) 4000mcg
Vitmain C (Absorbic Acid) 300mg
Vitamin D (as Cholecalciferol) 7.5mcg
Vitamin E (as D-Alpha Tocopheryl Succinate) 134mg
Vitamin K (as Phytonadione) 75mcg
Thiamin (as Thiamine HCI) 75mg
Riboflavin 75mg
Niacin (as Niacinamide) 75mg
Vitamin B6 (as Pyridoxine HCI and Pyridoxal-5-Phospahte) 58mg
Folate 1000mcg DFE
Vitamin B12 (as Cyanocobalamin) 100mcg
Biotin 300mcg
Pantothenic Acid (as Calcium-D-Pantothenate) 75mg
Choline (as Choline Bitartrate) 10mg
Calcium (as Calcium Carbonate and Calcium Citrate) 200mg
Iodine (from Kelp) 150mcg
Magnesium (as Magensium Oxide and Magnesium Aspartate) 100mg
Zinc (as Zinc Methionine and Zinc Citrate) 38mg
Copper (as Copper Gluconate and Copper Bisglycinate Chelate) 3.7mg
Manganese (as Manganese Gluconate ) 5mg
Chromium (as Niacin bound Chromium complex: ChromeMalate) 120mcg
Molybdenum (as Molybdenum Amino Acid Chelate) 80mcg
FIERCE TEST BLEND 692mg
Fenugreek Seed Powder, Velvet Bean Sed Extract, Andrographis Herb Extract, Boron (as Boron Citrate)
PROSTATE HEALTH / DHT BLOCKER BLEND 525mg
Saw Palmetto Fruit Powder, Damiana Leaf Powder, Asain Ginseng Root Powder, Pygeum Bark Powder, Ginko Leaf Powder, Stinging Nettle Root Powder, PUmpkin Seed Powder, Oyster Body Extract
ESTROGEN ELIMINATING COMPLEX 300mg
Diindolymethane (DIM), Chrysin
FRUIT/ VEGETABLE FORCE BLEND 240mg
Citrus Bioflavonoids Peel Complex, Garlic Bulbl Powder, Green Tea Leaf Powder, Grape SEed Extract, Blueberry Fruid Powder, Cranberry Fruit Powder, Wild Yam Root Powder, Carrot Roost Powder, Papaya Fruit Powder, Orange Fruit Powder, Pineapple Frit Powder, Spinach Leaf Powder, European Elder Fruit Powder, Collards (Kale) Leaf Powder, Brassica oleracea var gemmifera (Brussels) Sprout Leaf Powder, Broccoli Plant powder, Apple Fruit Powder, Actinidia delicousa (Kiwi) fruit Powder, Grapefuit Fuit Powder
VIRILITY BLEND 120mg
Maca Roost Powder, Chinese Dodder Seed Powder, Eleuthero Root Powder
ENZYME COMPLEX 50mg
Maltodextrin, Inuline, Papin, Bromelain, Amylase, Lipase 50mg
Dehydroepiandrosterone (DHEA) 50mg
Alpha Lipoic Acid 25mg
Para Amino Benzoic Acid (PABA) 10mg
Inositol 10mg
Lycopene 500mcg
Lutein 500mcg
Alpha Carotene (from Alpha , Beta carotene Beadlets) 500mcg
Vanadium (as Vanadyl Sulfate) 100mcg
Cryptoxanthin 100mcg
Zeaxanthin 28mcg