Description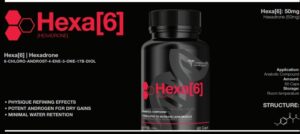 Hexa(6) {(6-chloro-androst-4-ene-3-one-17b-ol)} 
 

Physique refining effects

 

Potent anabolic with minimal androgenic properties for dry gains

 

Minimal water retention

It increases strength significantly


Hexadrone

 

is in the group of unmethylated prohormones. It provides significant muscle growth and increases strength enabling you to perform intense workouts. Unmethylated prohormones enable you to gain lean muscle mass without retaining water in your body. It provides a full hard muscle appearance and affects the achievement of a muscle pump due to the rapid swelling effect of muscle cells from glycogen storage. It is unmethylated and therefore has no undesirable side effects. It's perfect for men over 21 years old.

 

It does not convert to estrogen and does not lead to gyno in fact it is said it may act as an anti- estrogen!
Athletes recommend using the product due to the rapid increase in muscle mass, while maintaining strength and intensity of training. The use of hexadrone brings a stronger effect than the rest of the androgen substances available on the market. Although its effect is stronger, it does not affect the liver and has a lower level of toxicity. What's more impressive is, it only slightly converts to DHT, which in turn inhibits side effects such as hair loss or acne. 
CYCLE INSTRUCTIONS 
6-8 Week cycle 
Liver support: Built Protect (best) or NAC (good) 
Post cycle: Built Recovery 
Weeks 1-8 
Hexa- 1 pill am, 1 pill pm 
Liver support- 1 pill am, 1 pill pm 
Week 8-12 
Stop Hexa
Built Recovery -1 pill am, 1 pill pm 
Liver support- 1 pill am, 1 pill pm 
For 

6 week

cycle just make sure to follow week 8-12 instructions when you stop the Hexa at week 6